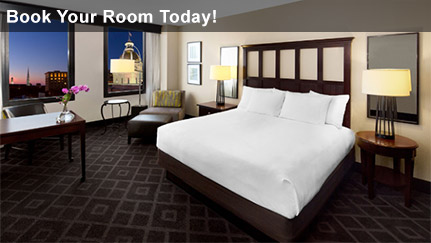 Savannah is a Southern city whose charm is something out of a fairytale – it's the most beautiful city in the nation and we're not just saying that – Savannah actually earned this title when USA Weekend Magazine declared Savannah one of the "Top 10 Most Beautiful Places in America." You won't be surprised once you walk along any of the 22 city squares, with beautiful public gardens and streets lined in hundred year-old oaks. Even with the nation's largest registered Urban Historic Landmark District, Savannah's 22 green squares and 1,600+ historically and architecturally significant structures are all just within a 2.5 square mile area. You can wear your walking shoes and stroll the Historic District for some of the city's best views. When you're in Savannah, you know you're somewhere special.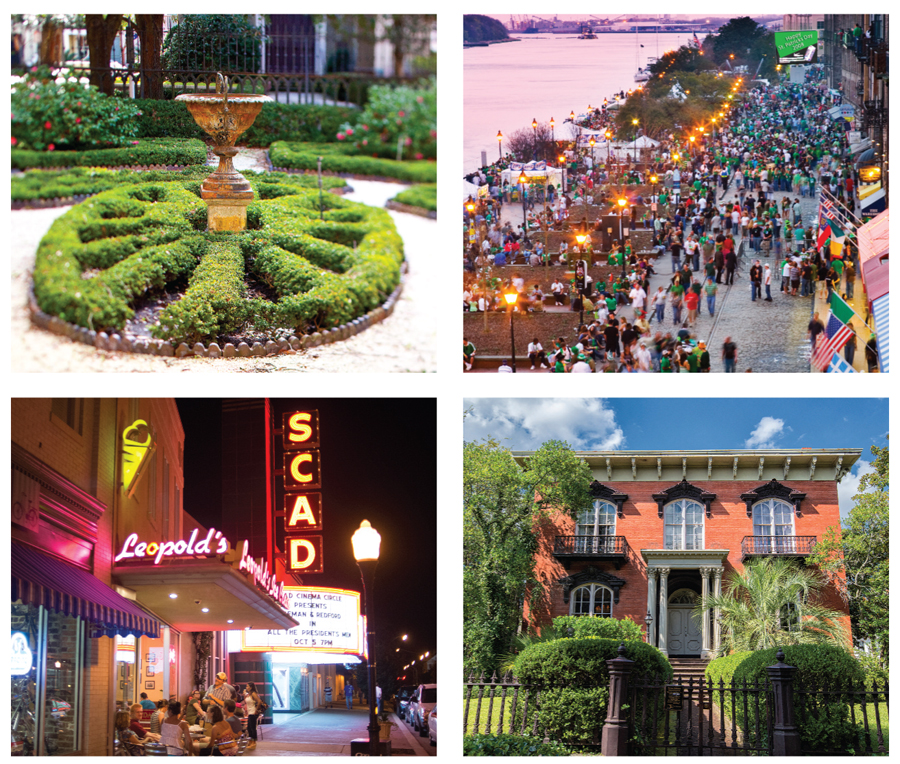 The city is the oldest in the state of Georgia, and its deep-rooted history and culture are woven into everyday life. The character and charm of Savannah have ripened over time by looking to its heritage – honoring and loving it – then driving forward for change and to realize dreams. From a port city of pirates and plantations, to being a modern-day hub for innovation, Savannah has a long history of technological advancement – including building the first cotton gin and the first steamship that crossed the ocean. It's also headquarters to a host of technology-related business, from giant Gulfstream Aerospace to smaller graphic design and software development pioneers.
Savannah is also home to one of the largest art schools in the country, Savannah College of Art and Design (SCAD). Theater, film and music scenes are also vibrant throughout the city. Located on the Savannah River and just 20 minutes from the Atlantic Ocean,
Savannah is where the elite come to eat and Southerners come to celebrate! Quickly becoming as famous for its food as it is for its historic sights, Savannah boasts Fresh local seafood, Southern home cooking and nationally known chefs as the main ingredients of a phenomenal cuisine scene. With more than 150 festivals, parades and holiday events each year, Savannah is also all about celebration. Music, art, culture and food are just a few of the excuses for city-wide parties. The Savannah Saint Patrick's Day celebration is one of the oldest and largest in the nation. Every March 17, the city grows by a half-million or so, all here to wear green and enjoy the city's sprawling celebrations.
If the excitement of the city proves too much, you can easily take a day trip to a coastal island just 20 minutes from Savannah's Historic District. Fun and funky Tybee Island offers sand, sea and history, plus more great food and adorably quaint accommodations. Tybee also hosts a wildlife refuge and is home to dozens of notable varieties of birds, turtles and other precious species.
Whether you want to walk through history in the gorgeous city squares, or enjoy a plate full of comfort served with warm Southern hospitality, or just to explore the shores of Georgia's coastal gem, we hope you'll join us in Savannah for SITE 2016! Find our more at http://www.VisitSavannah.com
Hotel and Travel Information
Hyatt Regency Savannah: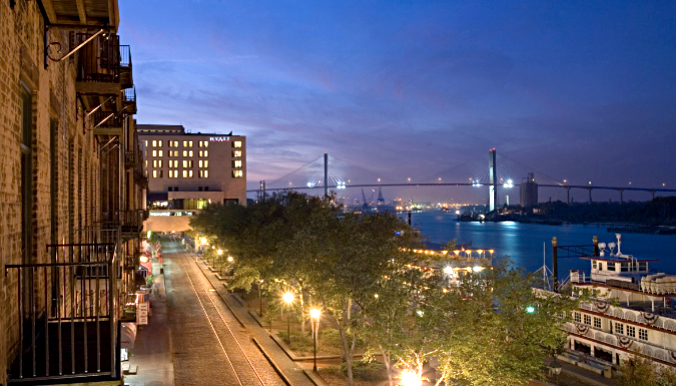 Located right on the Savannah Riverfront and in the heart of all the city has to offer, the Hyatt Regency provides a beautiful and exciting home for the 2016 SITE Conference. Located on Bay Street, the hotel is within steps of popular attractions like River Street, City Market, and isn't too far from Tybee Island. .
Special Hotel Rates
The special discounted rates are sold out and now only available for 3/20 and 3/21. SITE has been able to secure discounted rates for attendees on the remaining conference days. Please book call the hotel directly and ask for the SITE attendee rates. 
Special discounted hotel rates have been secured for SITE participants at the Hotel. To receive this special rate, hotel reservations must be made by:
February 25, 2016, 5:00 PM EST
You must identify yourself as an SITE attendee to get the correct rate.
Discounted Rate:
GUEST ROOM RATES

The Hotel confirms the following guest room rates:

| | |
| --- | --- |
| Single Occupancy: | $ 169 |
| Double Occupancy: | $ 169 |
| Triple Occupancy: | $ 194 |
| Quadruple Occupancy: | $ 219 |

As of July 1, 2015, the State of Georgia adds a $5 per room, per night Hotel-Motel Fee on all hotel stays to support the state's transportation infrastructure. Note that this fee is reflected in the per night prices above, and is in addition to the existing 13% tax and $1 City of Savannah Fee on all room nights.

Room rates are quoted exclusive of other applicable state and local taxes, or hotel specific fees in effect at the Hotel at the time of the meeting. The $5 state and $1 city fees are not tax exempt and are non-negotiable.

Guest Reservations
 You can also call 1-888-421-1442.
Hyatt Regency Savannah
2 W. Bay Street, Savannah, Georgia, USA, 31401
Tel: +1 912 238 1234 Fax: +1 912 944 3678
Transportation Information